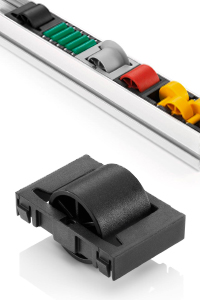 From now on, FATH offers a collection of different transport units and accessories for aluminum roller track profiles. Assembly of the units can be done easily from above and without tools. You have the choice between different rollers, ball rollers, brush and slide units. All units can be freely combined.
There are different roller shapes for different applications, each designed to meet special requirements regarding running smoothness, center distance and load capacity.

Rollers R28 are also supplied with flange for lateral guidance.

The roller unit R9 has very small center distance and a maximum number of axles. It is designed to build tracks running smoothly with minimum vibrations. It provides a reduced point load on the good and is perfect for use with very soft cardboard and coarsely built wooden boxes.

All units are available as electrostatically conductive version.

By colored rollers, level marks can be realized, e.g. for Kanban applications.

Ball roller and brush units provide for the possibility to move goods in two directions, even transversely to the track direction, e.g. at track switches and material locks. End plates close the end face of the track profile safely, provide a defined end stop, and allow for the attachment of buffer stops.

Compatible holding brackets in different versions connect with the tubular frame system D28.

By the way: FATH rollers are made from high-quality, glass ball reinforced Polyamide.

Fastening via slot 8 / slot 5 or slot 10 / slot 6.

Also perfectly suitable for use with railing elements for lateral guidance.

For further information, please ask our sales team or see the special catalogue.